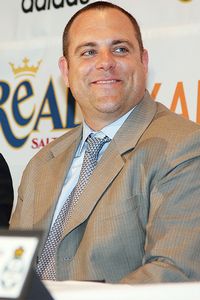 MLSsoccer.com has
an article up
where Garth Lagerwey, Real Salt Lake's vice president and general manager, talks about how teams with designated players are not designed for success in the CONCACAF Champions League.
The arguments are twofold. First is the obvious point that spending so much of your salary cap on a small number of players damages a team's depth, which is critical when MLS does not seem to think it necessary to schedule around these games. A team like New York with 3 DPs is locking up 40% of their salary cap on 12% of their roster. RSL's top three paid players account for 27% of the salary cap, giving the team about $400,000 more to spend on filling out the roster.
The second point is a little less obvious, but makes a lot of sense after you hear it. Designated players are much more likely to be older guys; the average ages of the 8 new DPs brought in this season is 30 years old. It's a lot tougher on older players to play 3 games in 8 days with a few thousand miles of travel between games like you'll get traveling to Central America to play.
When you look at the two most successful MLS teams in CCL play so far this year, the Columbus Crew and Real Salt Lake, it sure seems possible that while DPs can get your team deep in the MLS Cup Playoffs, they may not be the way to go for CCL glory.